Latest News & Events
Private Residential Care Home, Woodside Park, North London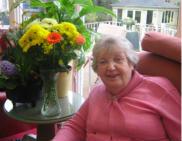 CELEBRATING MOTHERS DAY
17-03-2013
On Mothers Day, we pay a most humble tribute to Mothers!
Mothers are everything for us when we are small...our lives revolve around them For everything that we need we call mother. To protect us from all perceivable dangers we want her around us. To take us out we hold her arms. To kiss away our wounds we run to her. And for a warm hug and love we look for her. She is the focal point of our lives, the greatest human being in the world.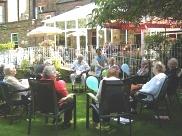 SPRING IN THE GARDEN
25-04-2013
The sun was shining bright and the staff kindly helped us to sit on the terrace, and we soaked the beautiful heat of the sun. Out came the sun cream and the hats.
The garden looked lovely, and alive. The magnolia and the forsythia were starting to bloom, life also stirred in the pear tree. What a dream!. If summer gives us a miss this year, at least we have had three beautiful and glorious spring days to remember.